Conseil des arts du Canada • SODEC
Prix Opus 2009-10: Disque de l'année — Finaliste
Du grand art, pas convenu du tout, pas académique non plus, presque rebelle en fait. Bravo. — Monsieur Délire, Québec
This is sharp dude audio; brilliance and delicacy at work; at masterwork! This is a modern electroacoustician at its best, all in a deeply French tradition; shadings and nuances out of the GRM, out of the GMVL and Studio Celia. — Sonoloco Record Reviews, Suède
IMED 09101 / 2009
UPC/EAN 771028090198
Durée totale

:

56:41
Stéréo
AAC, 320 kbps
MP3, 320 kbps
48 kHz, 24 bits
96 kHz, 24 bits
DVD-Audio — Advanced Resolution: Surround 5.1 (MLP 9624) + Stéréo (9624) •• DVD-Vidéo [NTSC, multi-région]: Surround 5.1 (DTS, Dolby Digital) + Stéréo (4824) •• DVD-ROM: fichiers MP3 (320 kbps), AAC (320 kbps) •• DVD 9
IMED 09101_NUM / 2009
UPC/EAN 771028090181
Durée totale

:

56:41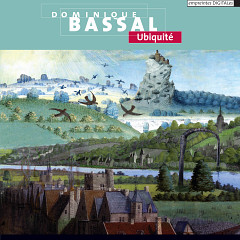 Ubiquité
DVD-Audio Surround

5.1

2.0

IMED 09101

US+3,00+4,00
Quelques articles recommandés
La presse en parle
Du grand art, pas convenu du tout, pas académique non plus, presque rebelle en fait. Bravo.

Salvatore Borrelli, SentireAscoltare, no 67, 1 mai 2010

This is sharp dude audio

;

brilliance and delicacy at work

;

at masterwork

!

This is a modern electroacoustician at its best, all in a deeply French tradition

;

shadings and nuances out of the GRM, out of the GMVL and Studio Celia.

Cet album est l'illustration parfaite de ce que ce genre musical peut offrir

:

un univers sonore à la fois familier et… teinté d'étrangeté.

Massimiliano Busti,

Blow Up

, n

o

143, 1 avril 2010

Le talent d'utiliser le son en tant que structure narrative

:

voilà ce qui distingue le travail de

Dominique Bassal

.

Bad Alchemy, no 65, 1 mars 2010

Les yeux fermés, ce que j'entends est une peinture gestuelle à la Pollock, de dramatiques éclatements de cristaux, des turbulences moléculaires et des grondements iconoclastes.

Frans de Waard,

Vital

, n

o

719, 22 février 2010

The pieces are well versed in the tradition of acousmatic music.
Blogue
Les disques Ubiquité de Dominique Bassal et Études pour Kafka de Francis Dhomont sont tous deux en nomination aux prix Opus dans la catégorie «Disque de l'année — Musiques actuelle, électroacoustique». Le 14e Gala des prix Opus aura…

mercredi 17 novembre 2010 /

Général