Conseil des arts du Canada
… captures the beauty and complexity even in those sounds that we often try to filter out. — Encompass, Canada
She has changed the way I listen to music… — Rubberneck, RU
IMED 1031 / 2010
UPC/EAN 771028103102
Durée totale

:

67:10
Réédition 14e anniversaire
IMED 1031_NUM / 2010
UPC/EAN 771028103171
Durée totale

:

67:10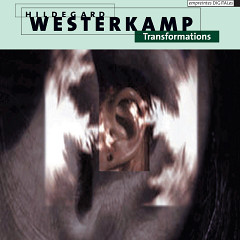 Transformations
Notes de programme
a walk through the city,
sunlight edge
and the cymbal crash
follow the burning signs,
the trail of bullets,
the embers dying
discarded shoe
like an open mouth,
a burn on the pavement
a house
containing three children
flashes once
and is gone
a single robbery
somewhere a man
is carving himself
to death
for food
day like an open wound
in the instant of the newsflash,
in the terror of the merchant,
in the gleam of the coin,
the child's eye
it occurs at gunpoint,
the barrel
laid across the heart
murder, the judgement,
assault
with a lethal instrument
the whole city staked out
with eyes
like a giant crystal
catching the angles of light
the city borders the skin
Les sons nous entourent. Nous sommes sons au-dedans de nous et nous résonnons avec le paysage sonore, même lorsque nous n'écoutons pas. Hildegard Westerkamp est sensible au paysage sonore. Elle façonne avec adresse une musique pleine de fantaisie et d'imagination à partir des enregistrements, des mixages et des transformations qu'elle effectue du paysage sonore. Hildegard Westerkamp crée de nouvelles possibilités d'écoute. On peut voyager avec ses sons vers des paysages intérieurs et découvrir des ouvertures inexplorées dans notre âme de sons. L'expérience de sa musique vibre de toutes les possibilités de changement. Ses compositions appellent une interaction — une occasion de nous éveiller à notre propre créativité. On peut se trouver transformé par l'écoute, comme elle-même l'a été. Dans la musique et les paysages sonores de Hildegard Westerkamp, on sent la mémoire et l'imagination, alors que l'avenir se fait entendre.
Pauline Oliveros, Kingston (New York, ÉU) [viii-95]
Je considère que les sons ont leur intégrité propre et qu'ils doivent être traités avec beaucoup de soin et de respect. Pourquoi est-ce que je transformerais la voix d'un grillon et pas celle de ma propre fille? Si le grillon habitait mon jardin, s'il avait un nom et venait me parler tous les jours, est-ce que je serais toujours capable de transformer sa voix en studio? Est-ce que j'en ressentirais le besoin?
Le moment où j'ai enregistré le grillon dans la Zone du silence (une région désertique du nord-est du Mexique) a été un moment magique — voir le texte pour Cricket Voice (Voix de grillon). Et donc, la 'manipulation' du son en studio a semblé comme déplacée. La transformation de ce son en composition se devait d'être un nouveau voyage sonore de découverte pour conserver toute la magie ressentie au départ. Je me souviens du moment où j'ai du dire «stop» à l'expérimentation électroacoustique: le grillon était menacé de disparition.
Même expérience avec le corbeau dans Beneath The Forest Floor (Sous le sol de la forêt). Au ralenti, la voix me rappelait un tambour des Amérindiens de la côte Ouest. En échantillonnant une petite partie du cri du corbeau au ralenti, j'ai essayé de faire battre le son du battement régulier d'un tambour. Mais le son ne se laissait pas faire. Il se changeait constamment en boîte à rhythme électronique. Cela m'a demandé une journée entière de vol dans le 'territoire électronique' avant de retouner au cri de corbeau initial, pour pouvoir vraiment l'entendre et le laisser finalement être ce qu'il avait toujours été: un son qui rappelle le tambour.
Par contre, je me suis montrée sans pitié pour les freins de camion dans A Walk Through The City (Randonnée dans la ville). Je les ai traités jusqu'à les rendre méconnaissables: en éliminant toutes les basses fréquences de la circulation environnante, j'ai réussi à extraire des sons tonaux purs, je les ai mixés entre eux et obtenu des accords qui ont fini par donner à la composition une couleur mélancolique, particulièrement inattendue dans le cas de cette source de sons grinçants et perçants.
J'entends le paysage sonore comme un langage par lequel les endroits et les sociétés s'expriment. Face à la pollution par le bruit qui règne, je veux me montrer compréhensive et bienveillante pour ce 'langage' et la manière dont il est 'parlé'.
Je compose à partir de n'importe quel son que l'environnement offre au microphone, de la même façon qu'un écrivain travaille avec tous les mots que fournit une langue. C'est dans les façons spécifiques par lesquelles le langage est choisi, organisé et traité que la composition a lieu.
J'aime utiliser le microphone comme les photographes utilisent souvent la caméra, en partant à la recherche d'images, en utilisant le zoom pour découvrir ce que l'oeil humain seul ne peut voir. J'aime placer le microphone très près des minuscules, paisibles et complexes sons de la nature, pour ensuite les amplifier et les mettre en relief pour la radio ou pour tout autre médium électroacoustique: je veux parvenir à les rendre audibles pour l'oreille urbaine engourdie. Peut-être que, par là, ces sons de la nature peuvent être acceptés comme tenant une place importante dans le paysage sonore, et commander ainsi respect et protection.
J'aime parcourir la frontière entre le son réel et le son traité. D'une part, je veux que l'auditeur reconnaisse la source, et donc je désire établir un sens du lieu. Parallèlement, je suis également fascinée par le traitement du son en studio et par la transformation de la source qui devient essentiellement méconnaissable. En tant que compositeure, cela me permet d'explorer à fond le potentiel musical/acoustique du son.
Mais ce n'est que dans une certaine mesure que le son initial se fait abstrait, et je ne cherche pas vraiment à brouiller sa clarté initiale. Je transforme les sons afin de mettre en relief leurs significations et leurs contours initiaux, un peu à la manière d'un caricaturiste qui rend plus nets les contours d'un visage et la perception qu'on en a.
Ces compositions se retrouvent maintenant sur ce disque, un site entièrement abstrait, éloigné des endroits d'où proviennent les sons. Elles auront peut-être à faire face à du matériel de lecture audio de mauvaise qualité et des salons bruyants, des radios d'autos ou des oreilles distraites. Une composition sur la forêt dans un appartement en bordure d'une autoroute… peut-elle ramener l'auditeur dans la forêt? Un morceau urbain dans une paisible vie champêtre… est-ce nécessaire?
Les enregistrements pour les parties en direct sur ce disque compact (Kits Beach Soundwalk et Fantasie for Horns II), de même que le mixage final pour Kits Beach Soundwalk ont été réalisés au studio Ireme à Surrey (CB), studio du compositeur canadien Sergio Barroso. Je tiens à remercier Sergio et Michael Maguire pour avoir prêté leurs oreilles expérimentées à ce processus. Le mixage final pour Fantasie for Horns II a été réalisé au studio de la compositeure, Inside the Soundscape.
Hildegard Westerkamp, Vancouver [viii-95]
Quelques articles recommandés
La presse en parle
PiT, Gonzo Circus, no 47 B, 1 décembre 2000

Joyce Hildebrand, Encompass, 1 octobre 2000

… captures the beauty and complexity even in those sounds that we often try to filter out.

Brian Marley, Rubberneck, no 30, 1 décembre 1999

She has changed the way I listen to music…

DR, Whole Earth, 1 mars 1999

… some of the most thoughtful environmental compositions ever recorded.

Katharine Norman, Array Online, 1 mars 1999

… carefully wrought sonic forms…

Patricia Lynn Dirks, Computer Music Journal, no 23:1, 1 mars 1999

… tickles the ears and stimulates the mind to anticipate the unexpected.

Dan Warburton, Art Zéro, no 14, 1 janvier 1999

Andra McCartney,

eContact

!

, n

o

1:1, 1 février 1998

… a particular source of insight and inspiration.

Thomas Beck, Odradek, no 3, 3 janvier 1998

The care given to these compositions is so delicate that you can't help but feel as though you've entered a marvelous world of sound.

Ear Magazine, 1 juillet 1997

Excellent — Among the Best of the Genre

Philippe Tétreau, La Presse, 14 juin 1997

… a particular source of insight and inspiration.

Jeff Filla, N D - Magazine, no 20, 1 juin 1997

SOCAN, Words & Music, 1 avril 1997

Elle réussit parfaitement à créer des paysages sonores imaginaires…

MP,

Vital

, n

o

67, 1 février 1997

… a brilliant shimmering exploration of minuscule sounds…

Brian Duguid, Ios Smolders, Electric Shock Treatment (EST), no 6, 1 mars 1995

Listening to everything. So that listeners begin to become conscious of the soundscape's role in their lives…
Blogue
Le 10 mars 2010 empreintes DIGITALes lance un triplé de disques — deux nouveautés et une réédition — de compositrices exceptionnelles. Ingrid Drese regroupe ses œuvres acousmatiques en son haute définition: Interstices. {bio:barrett_…