Conseil des arts du Canada
Oeuf Korreckt is a master in his field. — Phosphor, Allemagne
… charmanten Synthpop… — Terz, Allemagne
Les années et les modes peuvent bien passer, l'intérêt pour la musique d'Oeuf Korreckt n'en démord pas. Contagieusement enjouée et faussement simple, elle affuble tous ses auditeurs d'un sourire béat et elle les fait même danser sur place! Podweek est un disque délicieux et même un peu historique, puisqu'il a été conçu (presque) entièrement sur un outil que d'aucuns croient désuet, le tracker. Les sceptiques seront confondus! À écouter encore et encore (et encore…).
IMNT 0205 / 2002
UPC/EAN 771028020522
Durée totale

:

78:18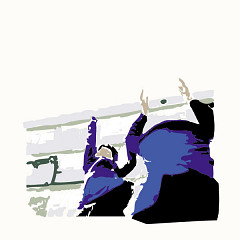 Podweek
18,75 CAD

25,00 CAD (-25%)

US+3,00+4,00
Notes de programme
C'est un fait méconnu, mais beaucoup de pionniers de la musique sur ordinateur furent des jeunes de moins de 20 ans utilisant des logiciels tels que Scream Tracker (et plus tard Impulse Tracker) pour produire une musique séquencée, robotique et sans esbroufe, mais souvent complexe et surprenante. L'arrivée de l'environnement graphique Windows, qui ne supportait plus l'interface des trackers, sonna éventuellement le glas de cette méthode de composition au profit de méthodes plus visuelles, modulaires, intuitives, ce qui fait qu'on a tendance à minimiser une production mondiale et quasi-monastique dont l'âge d'or s'étend de la fin des années 1980 au milieu des années 1990.
Arrivé trop tard pour les jours glorieux de la scène, Frédérick Blouin crée d'abord sa musique pour lui-même et ses amis. De cet outil complexe et difficile d'approche, il compose une quantité effarante de petits bijoux de mélodies électroniques d'une finesse de plus en plus prononcée. Vers 1995 il commence à les signer Oeuf Korreckt.
Le disque Podweek présente un aperçu de la création de Oeuf Korreckt de 1995 à aujoud'hui, et propose une sélection d'oeuvres que je juge importantes non seulement dans son propre développement musical, mais également dans le cadre d'une histoire de la musique électronique. Écouter du Oeuf Korreckt, c'est remonter à Orbital, à Polygon Window, à Black Dog Productions (qui d'ailleurs faisait également du tracking), au Autechre de Tri Repetae, au premier disque de Björk, aux compilations de techno classique style Thunderdome, au hardcore de Rotterdam (il faut écouter l'hommage bien senti que constituent les huit minutes de King of the Elephants), voire carrément à Kraftwerk.
Mais on n'en reste jamais aux réminescences avec cette musique. Les années et les modes peuvent bien passer, l'intérêt pour la musique d'Oeuf Korreckt n'en démord pas. Contagieusement enjouée et faussement simple, elle affuble tous ses auditeurs d'un sourire béat et elle les fait même danser sur place! Alors au bout du compte, aspect historique ou pas, Podweek est surtout une musique vraiment délicieuse.
David Turgeon [vi-02]
Quelques articles recommandés
La presse en parle
Emiliano Grigis, Sodapop, 20 juin 2004

Vidal Romero, Era, 1 décembre 2003

HK, Rif Raf, 1 décembre 2003

DS, Phosphor, 1 décembre 2003

Oeuf Korreckt is a master in his field.

Laurent Catala, Octopus, no 25, 1 novembre 2003

T™, Black, no 33, 1 novembre 2003

SVS, Rif Raf, 14 octobre 2003

Rene Passet, BG, 1 octobre 2003

Honker,

Terz

, 1 octobre 2003

… charmanten Synthpop…

José Manuel Cisneros, Beat People, 15 septembre 2003

Una recopilación de tracks que abarcan desde la experimentación "a lo Warp" de los primeros temas…

LL, Beam Me Up, 7 septembre 2003

Choices, 1 septembre 2003

veg.b, Raveline, 1 septembre 2003

Von Falk, Somamag, 26 août 2003

Darren Bergstein, e/i magazine, no 1, 31 mars 2003

Oeuf to one side, the laptop techie grins, stroking all the Korreckt keys.

Vittorio Marozzi, Kathodik, 17 janvier 2003

Christopher Murphy, %Array, 3 novembre 2002

… an album whose content places it firmly at the crossroads of this period of intensely fertile electronic musical development.

Luke Martin, Splendid E-Zine, 3 novembre 2002

The mix of big-booted dance, creepy ambience and cheese-grinned sunrise choruses is enough to wet anyone's appetite for more. Get into it

;

it's warm…

François Couture, AllMusic, 30 août 2002

The real interest in these pieces is more in the way they sound fresh, positive, and entertaining.

Étienne Côté-Paluck, Voir, 18 juillet 2002

Sarah Lévesque, Nightlife, no 36, 1 juillet 2002

… Oeuf Korreckt assure une IDM gentille, pointue, rigolote et inventive.

Voir, 27 juin 2002

Jeremy Keens, Ampersand Etcetera, no 2002_8, 20 juin 2002

… meaty beaty big and bouncy tracks which often have a kitschy retro sound that is complex and inventive.

David Cantin, Le Devoir, 15 juin 2002

… un véritable magma de textures paradoxales…

Brian Lavelle, Vital, 13 juin 2002

… engage an unstoppable grin and send the proverbial shiver dancing up and down the spine…

Julien Jaffré, Jade, no 8, 1 juin 2002

… un album sans faille, séquencé, cadencé, en un mot rutilant de santé… À découvrir d'urgence.

Nicola Catalano,

Blow Up

, n

o

49, 1 juin 2002

… sometimes funny, sometimes silly, but in the end most of them are enjoyable…

Vils di Santo, Incursion Music Review, 27 mai 2002

… well-formed and entertaining compositions… A very worthwhile release, from beginning to end.

Jean-François Perreault, Convergence, no 2:6, 15 mai 2002

Une valeur sûre pour ceux qui sont curieux des sons qu'on n'entend presque plus.
Blogue
«… Oeuf Korreckt assure une IDM gentille, pointue, rigolote et inventive.» (Night Life, Canada) Oeuf Korreckt est à l'honneur ce mois-ci dans le magazine gratuit Night Life. Frédérick Blouin se confie et nous parle de son premier album sur…

«Oeuf Korreckt nous fait redécouvrir le son de tout un pan de la musique électronique, séquencé et dominé par des rythmes robotiques.» (Convergence, Canada) Oeuf Korreckt produit depuis les années 90 une quantité incroyable de petites compo…