Conseil des arts du Canada • SODEC
Les arbres: Prix Ars Electronica 2009 — Mention
Prix Opus 2008-09: Disque de l'année
On ne peut être qu'attiré par la splendide musique de Nicolas Bernier. Son premier CD officiel s'appelle Les arbres et c'est un disque d'électroacoustique parmi les plus exquis que nous avons jamais édité. Bernier a un monde sonore tout personnel à sa disposition (dont on a eu un aperçu avec son délicieux EP Ail et l'eau faille) et c'est bien notre veine que d'avoir l'opportunité de le partager avec vous dès aujourd'hui.
Des paysages sonores et des lentes textures côtoient des articulations précises, le tout reposant sur une orchestration minimaliste composée de guitares, de cuivres, de vibraphones, d'accordéons et de cordes. Bref: un disque stimulant, une remarquable attention aux détails, une excellente qualité de production, un plaisir d'écoute indéniable, et un nouveau jalon dans la jeune carrière d'un compositeur tout ce qu'il y a de plus pertinent.
Les arbres, c'est aussi un remarquable projet visuel. Le disque comprend six reproductions (format carte postale) d'illustrations de Urban9 conçues spécialement pour ce projet, le tout emballé dans une superbe jaquette. Plus d'excuses, il vous faut ce disque!
IMNT 0816 / 2008
UPC/EAN 771028081622
Durée totale

:

43:21
IMNT 0816_NUM / 2008
UPC/EAN 771028081684
Durée totale

:

43:21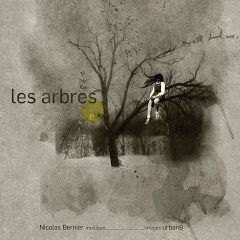 Les arbres
Quelques articles recommandés
La presse en parle
Tobias Fischer,

Tokafi

, 22 mars 2011

It is sweet, it is bitter. It is fragile, it is rough. It is sentimental, it is cool. It feels spontaneous, it has been carefully constructed — there's no end to the list.

…

Bernier

a gagné un prix Opus pour ce disque

;

croyez-moi, il ne l'a pas volé.

… there is indeed something of the forest, wild and organic, but at the same time with a sense of higher order and harmony.

Un disque qui laissera très certainement des traces à tout ceux qui auront le bonheur d'y laisser traîner une oreille. Passionné et passionnant.

Aurelio Cianciotta,

Neural

, 17 juin 2009

… a perfect integration of sinuous emotional trajectories…

Tobias Fischer,

Tokafi

, 25 février 2009

The images and sounds of

Les arbres

[…] encapsulates its audience in a nostalgic, discreetly melancholic and romantic emotional bubble.

I am left with little doubt that

Nicolas

is fast developing into one of the most important producers/artists around today.

… l'ensemble est sûrement trop bien pensé et orchestré pour y avoir quoi que ce soit à redire.

El canadiense

Bernier

evita con soltura el peligro de la frialdad digital gracias al constante recurso a los más amables timbres acústicos, pero no parece haber jerarquías entre sonidos.

… une véritable force vivante, sereine et poétique.

Benoît Richard,

Ondefixe

, 1 octobre 2008

… on découvre un univers riche et foisonnant, où chaque ambiance semble travailler jusqu'à l'extrême, histoire de faire ressortir le maximum d'impressions, d'images, de ressentis chez l'auditeur.

Laurent Catala, Octopus, 1 octobre 2008

Nicolas Bernier

articule textures travaillées […] et sens minimaliste contemplatif pour asseoir un paysage musical sensitif, appliqué et mélancolique…

… pillole di sound-art in dimensione tascabile tra acustica purezza e contaminazione digitale…

Jurgen Boel,

Goddeau

, 10 septembre 2008

L'album a du succès là où beaucoup de musiques électroniques échouent

:

il fait le pont entre les amateurs et les néophytes.

Stefano Isidoro Bianchi,

Blow Up

, n

o

124, 1 septembre 2008

È una soundtrack carica di sentimento, che ti entra nella pelle per non uscire più.

Pavel Zelinka, His Voice, 1 septembre 2008

The images and sounds of

Les arbres

work both as works of art in their own right and as a multimedia experience which encapsulates its audience in a nostalgic, discreetly melancholic and romantic emotional bubble.

Stephen Fruitman,

Sonomu

, 28 août 2008

A real coffee-table book of a package. Housed in its handsome slipcover are a slim CD case and six quality postcards…

Arno Peeters, Radio 6, 29 juillet 2008

Michael We,

Nonpop

, 8 juillet 2008

Dieses hier ist allerdings äußerst gelungen und wird hoffentlich um weitere Versuchsreihen ergänzt.

Frans De Waard,

Vital

, n

o

633, 30 juin 2008

This is quite an amazing CD, with great ideas, perfect execution, nice packaging and a way out of the locked in microsound artists.

Sven Swift, 12rec.net, 21 juin 2008

Six exquisite songs of crackling textures, harmonic drones and ambient extravaganza […] Purchase, baby

!
Blogue
Le disque No Type Les arbres de Nicolas Bernier a reçu le Prix Opus du «Disque de l'année — Musiques actuelle, électroacoustique» lors du 13e Gala Opus le 31 janvier 2010 à Montréal. À noter que, le même soir, l'œuvre Chorals ornés pou…

Plusieurs artistes electrocd.com sont en nomination au 13e prix Opus, remis depuis 1996 par le Conseil québécois de la musique. Les disques empreintes DIGITALes Chroniques d'une séduction de Jacques Tremblay ainsi que Gratte-cité de Ned Bouhalassa…