Rythmes abusivement véloces. Lignes de synthé gratuitement électroïdes. Fonds sonores de films de série Z. Bruit de cassette vierge. Échantillons de voix morcelés. Trame sonore du tableau des «high scores». Mélodies à un doigt. «Breakbeats» liquides. Plongeons dans le pop pas réglo. Peu importe ce que vous voulez, Sings the blues l'a. À part peut-être pour le blues.
Voici le deuxième CD de Books on Tape, et quelle surprise! D'abord, c'est du 100% Tood Drootin: aucun collaborateur n'a été impliqué dans cet enregistrement. Et deuxièmement, fait important, ce CD est le premier à capturer le son et l'essence des fameux concerts de Books on Tape.
Que vous ayiez ou non eu la chance de voir le prodige de l'échantillonneur dans votre ville, ouvrez vos oreilles et il est certain que vous allez adorer ce nouveau CD. C'est frais, c'est excitant, c'est intense, et ça a du flair et ça a du mordant. En gros, c'est du Books on Tape à son meilleur. Todd Drootin est dans la place, et il n'est pas près de s'en aller!
Masterisé par Louis Dufort. Disponible aux ÉU sous étiquette Greyday [GDP 009].
IMNT 088 / 2003
UPC/EAN 771028808823
Durée totale

:

65:37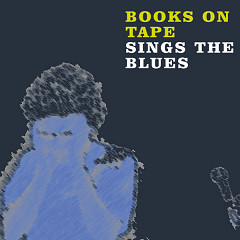 Sings the Blues
18,75 CAD

25,00 CAD (-25%)

US+3,00+4,00
Notes de programme
Todd / Books on Tape would like to thank the decent people of the universe, including, but not limited to: Kerri, Mom, Dad, Stef, Kenny, Nasty (cat at eleven), Drootin, Benes and Kirchheimer families, David T, Aimé, Érick & No Type, Todd B & Greyday, Greg/Sheryl & Piehead, Brian Swirsky & Complete Control, Mike Locke, Aaron & Mental Monkey, Everyone at Fanatic, Cursive, The Faint, The Good Life, Rilo Kiley, Mayday, Chaki (+ Kate), Headphone Science (+ Jen), Captain Ahab, Consafos, Mr Mixel Pixel, Atole, Zug Island, Dick Richards (+ Leah), Bronwyn, Child Pornography, Deathbomb Arc, Wendy Gilmartin, David Cotner, Macc, Neil, Hotdog, Meshel, Meagan, Peter, Doug, Steve, Matt & Cat, Kelli (AE Wright old school bus homegirl!) plus Jordan & Jess (Greencoast), Kara and John, Robert, Priya & Chris, Brian Lavelle, LA Weekly, Vital Weekly, Parlour Club, City of North Hollywood, KXLU, KUCI, KSPC, KPSU, The Smell and The Fold. I also have a special place in my heart for neoconservatives, John Ashcroft's songs and television preachers! Amen! Kerri gives love to her WSP friends, DJ Isha, Carlos, Sarah, Laurel, Steve, Danny, Brian Boyce (bring me that theremin!) Books on Tape is as much hers as mine, so respect the lady, hey? Besides, I love her. And I sample her records.
This music would have never happened without: Pavement, Talking Heads, Albert Ayler, Sonic Youth, Sun Ra, Wire, Lee "Scratch" Perry, Neil Young, Mike Patton, The Slits, Gang of Four, The Pixies, Public Enemy, Freestyle Fellowship, Art Ensemble of Chicago, Cash Money Millionaires, The Fall and David Bowie. As well as countless others (Neptunes, Premier, Timbaland, etc.). Respect to all forward-minded artists. Push on!
Quelques articles recommandés
La presse en parle
Aurelio Cianciotta,

Neural

, 15 juillet 2004

Brian Marley,

The Wire

, n

o

246, 1 juillet 2004

… de la noirceur de l'electro-dub à la chatoyante mélodie simpliste et efficace…

Éric Thériault, Convergence, no 26, 1 avril 2004

… il offre toute l'intensité et l'énergie de la musique punk.

moog, Beam Me Up, 1 avril 2004

Vidal Romero, Trax, 1 avril 2004

Christian Meyer, Choices, 1 avril 2004

Honker,

Terz

, 1 avril 2004

Gonzo Circus, no 62, 1 avril 2004

En résumé

:

très varié, cet album

«

blues

»

qui est plein d'énergie… Le tout est dépourvu de

«

blues

»

et sonne fait maison

!

Et en un mot

:

incontournable

!

There are so many good things on this album to recommend that I could literally go on for hours.

Michael Ornadet, Logo Magazine, 15 mars 2004

… a master of telling stories without using words…

Foutraque et détraqué, musclé, groovy et festif, c'est du tout bon que ce son électro enfin atypique…

Vittore Baroni, Rumore, 1 mars 2004

Wiolin, Fluid, 1 mars 2004

Jean-François Micard, D-Side, 1 mars 2004

Compgeekgirl, South of Mainstream, 1 mars 2004

… an indie-electronic wonder that will get your ass out of the seat and on your feet.

T™, Black, 1 mars 2004

Von Falk, Somamag, 15 février 2004

Benoît, Benzine, 10 février 2004

Books on Tape vaut vraiment le détour pour peu que vous soyez amateur de broken-beat et autres bizarreries hip-hop déjantées.

… a 65-minute mishmash of myriad musical styles that is sometimes dark, sometimes warm, the overall tone of the record changing with almost every track…

5/5

Rob Geary, Grooves, no 12, 1 février 2004

Books on Tape winds up with something like sinister downtempo that retains some of the warmth and texture of its sources.

Rich Juzwiak, Magnet, 1 février 2004

Sings the Blues

feels as important as drill'n'bass masterworks by Aphex Twin, Squarepusher and µ-ziq…

Neslon L, Stylus Magazine, 1 février 2004

This is a great album from start to finish.

Martin Lomas, The Music Womb, 15 janvier 2004

… cool and oh so good to move to. Bloody genius.

Foghorn, Chicken-head Records, no 9, 1 janvier 2004

Uncategorizable is a complete understatement

!

Strange sense of humour […] a multi-layered, ever-changing example of a completely uninhibited attitude towards music…

Marc Weingarten, Entertainment Weekly, 10 décembre 2003

Walt Miller, Splendid E-Zine, 3 décembre 2003

Books on Tape's mischievous core is exposed as a whimsical bright spot within IDM's crowded field…

Nicola Catalano,

Blow Up

, n

o

67, 1 décembre 2003

Julien Jaffré, Jade, 10 novembre 2003

Une union heureuse au delà du papier qui scelle […] l'appétit du label pour une musique rythmique en marge.

Laurent Catala, Octopus, no 25, 1 novembre 2003

… this is one of the most criminally under-appreciated acts in Los Angeles… Top notch.

Jeremy Keens, Ampersand Etcetera, no 2003_m, 23 octobre 2003

… a dancing dramatic techno… a fun filled time.

… the brilliant premeditation is evident in how friggin' good his stuff is.

Adrian Zupp, Rolling Stone, 22 octobre 2003

Anne Sulikowski, Earshot, 21 octobre 2003

It is seamless and powerful and full of bubbly fun.… a heart drenched lullaby sung to you from outer space. I love this CD more each time I listen again and again…

Philip Raffaele, Absorb, 9 octobre 2003

Quite a breath of fresh air in a stifled genre.

François Couture, AllMusic, 23 septembre 2003

… a labor of good-humored pranskterism and double-dare dance tunes.

… a mad genius is at work here.

Boban Ristevski,

Igloo

, 9 septembre 2003

… fresh, new, funny and yet very serious and adventurous.

David Cantin, Le Devoir, 6 septembre 2003

… on prône chez No Type une liberté artistique foisonnante.

Richard di Santo, Incursion Music Review, no 071, 6 septembre 2003

… the hard, up-tempo, almost aggressive rhythms build your energy up to a raw, inexplicable high.

Serge Roy, Convergence, no 3:5, 1 septembre 2003

Une loufoquerie dotée d'une belle fraîcheur et d'une sacrée énergie qui force le respect.

Frans de Waard,

Vital

, n

o

385, 20 août 2003

Freshly aggressive, raw and untamed. Quite an enjoyable effort.
Blogue
Books on Tape quitte sa chaude Californie pour le nord-est américain et se produira en concert le 23 janvier 2004 au Bella Muse (Halifax, NS), le 28 janvier à la Casa del Popolo (Montréal), le 30 janvier au concert bénéfice du East River Mu…

Il est beau, il est bon… C'est Books on Tape Sings the Blues. Autant le dire tout de suite, c'est l'un des albums les plus dynamiques, variés et réjouissants que vous aurez entendu cette année. La technique d'échantillonneur de Todd Drootin…