In 1998, American composers John Grzinich and Seth Nehil initiated a process of recording and experimentation that would result in a pair of full-length CDs. The seed of the project originated in Austin, Texas with acoustic recordings of found objects played by large groups. By the end, it had expanded into a three-year, transcontinental exchange of intensive interaction, questioning and dialogue. These works further the artists' interest in physical materials and natural acoustics which are consequently composed into imbedded, altered and engaging structures. Taking form with the integrity of a living organism, these pieces invite the listener to find his way through the reticulated and stratified development of a subtly unfolding, organic sound-body. The first part of this project, "Stria", was published by the Erewhon label (Belgium) earlier this year. Intransitive is now proud to present part two, "Confluence".
The exploratory focus of "Stria/Confluence" is the idea of resonance; the phenomenon of natural vibrations that give rise to intensified or stable structures within sound bodies and fields. In the production of these works, the composers' approach to resonance encompassed not only acoustical behavior but also included analogies of the phenomenon in group interaction and/or participation within the social context of sound generating activities. It was again applied to the studio in the use of massive multiplications and layerings, resulting in deeply transformed, evolutionary sound fields. Seemingly infinite layers of minute actions accumulate into a deep wash of sound, not unlike the similarly-minded Jonathan Coleclough or mnortham. Repeated listening reveals more and more subtle details so that the piece appears to change each time it is experienced.
Seth Nehil's work with layered acoustic recordings has been heard on his previous releases published by KAON, Alluvial and 20City. Both artists, whose previous duo recordings used the band name Alial Straa, have collaborated extensively with mnortham and Olivia Block as part of Austin's Orogenetics group.
Hors catalogue
Cet article n'est pas disponible via notre site web. Nous l'avons catalogué à titre informatif seulement.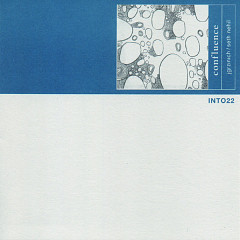 Confluence