MTK CLB01 / 2001
UPC/EAN 620675139197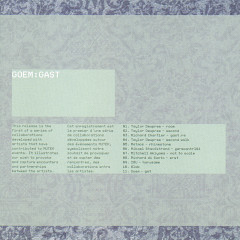 Gast
Notes de programme
Not a compilation but collaborative works generated by Goem, at their hotel room while at Mutek 2001, 11 microsound unreleased tracks.
"All of the tracks on this release were recorded adjacent to the 2001 edition of MUTEK, a five-day festival of music, sound and new technologies in Montréal. It was on this occasion where I met with Goem members Frans de Waard, Roel Meelkop and Peter Duimelinks. When we weren't in the concert halls we took our time to explore the restaurants along Saint-Laurent, among which we sampled some of the best Thai food many of us had ever tasted (I seem to remember Taylor Deupree raving about the papaya soup). On Sunday, with I8U as our guide, we took a short drive to see a sound installation by Carsten Nicolai at the Silo #5, only to be thwarted by barricades and the unstoppable rain. Sitting in the van along with Martin and Drew of Matmos, Richard Chartier, Taylor Deupree and Mitchell Akiyama (it was a large van), disappointed but not discouraged, we initiated our own impromptu performance by jamming to the sounds of the windshield wipers, each of us adding a different sound by whatever means within reach. And finally, between the food, the concerts, the walks and road trips, we would often find our way back to Goem's hotel room, where they invited us to create original mixes of their sound material. They set up their mobile studio on a small table by the window. The room overlooked a parking lot and the side of a building fraught with discoloration and graffiti, the colours of which seemed to grow more salient when wet with the spring rain. The setup was deceptively simple, and yet there existed a near infinity of possibilities with any given mix. While each track carries something of Goem's sound aesthetic — exploiting the subtle tensions fabricated between minimal pulses and short loops — it's also clear that each one carries the particular mark of its creator. Further, and more to the point, each track has managed to capture a small part of the creative spirit which marked our time together in Montréal, a spirit now celebrated and documented in this release."
La presse en parle
Frans de Waard,

Vital

, n

o

379, 9 juillet 2003
Frans de Waard,
Vital
, n
o
379, 9 juillet 2003
For many Mutek is Sonar's little sister in North America. Similar music, but because of the smaller size, maybe a more friendly approach. In 2001 Goem played there, and they took the chance to work on their Abri CD in their hotel room. Other artists from the festival shared rooms next to Goem, and dropped by to see what they were doing. After some explaining, some of the artists used the Goem set up to do their Goem (re-?) mixes. A CD was released later on, Gast on the Mutek side label. This idea of using hotel rooms for artists in transit was further explored in 2002, when Radboud Mens, Stephan Mathieu, Janek Schaefer and Timeblind decided to do some music together which is now released as Quality Hotel (just like Abri a name of a hotel in Montréal). It's a bit different then the Goem CD, in that respect that Gast still sounds like Goem, but in the hands of others. Quality Hotel is the result of editing the finest moments from probably several hours of improvising music together. It's hard to tell who did the final selection, but my guess it's Stephan Mathieu having a big hand in this. I don't hear Radboud Mens crazy minimal techno, Timeblind's hip hop inspired rhythms and from Janek we hear his turntable, but it's very much incorporated in the total. Leaves the warm crackles of Mr. Mathieu, still one of the more refined musicians when it comes to warm glitches, and it seems to me that he has a firm hand in editing this album. It's subdued ambient like music, with occassional crackles and hiss, maybe even an odd bang here and there (although rhythm is altogether not a theme here). Held back and refined, warm and glitchy. There is a lot of improvisation going on between people with laptops, but it not always reaches great height. Here's one that matters.