La musique de Martin Bédard mérite qu'on y tende l'oreille. — CHYZ Radio, Québec
Martin Bédard travaille la texture des sons pour en dégager une beauté singulière. — SOCAN, Paroles & Musique, Canada
Le titre de ce très attendu disque de Martin Bédard parle par lui même: Topographies. La musique de Bédard en est une de relief, exploitant à son paroxysme la force de la dynamique. L'auditeur ne saurait s'ennuyer une seconde à l'écoute de ses musiques d'une vigueur rarement rencontrée. L'écriture compacte l'emmènera aux confins d'univers denses et opaques où il devra retenir son souffle, laissant même un sentiment de vide après une écoute complète. Un disque techniquement éblouissant et esthétiquement accaparant.
IMED 13121 / 2013
UPC/EAN 771028212156
Durée totale

:

53:22
IMED 13121_NUM / 2013
UPC/EAN 771028212187
Durée totale

:

53:22
Stéréo
44,1 kHz, 24 bits
48 kHz, 24 bits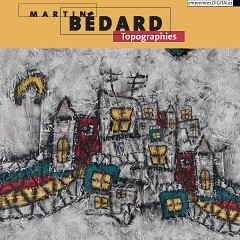 Topographies
Notes de programme
Merci à…
Dominique Dubois
Mathieu Lachance, Jean-François Tremblay
André «The Analog Kid» Fecteau, Pierre Genest, Denis Dion, Guy Carmichael, Armando Santiago, Annie Morrier, Inti Manzi, Isabelle Harvey
Yves Daoust, Stéphane Roy, Jean Landry
Jacques Drouin, Lorraine Vaillancourt
Jean-François Dessureault, Georges Forget, Robert Normandeau, la gang de Point d'écoute…
Christian Bouchard, Dominique «Napalm Death» Bassal, Marie-Hélène Breault et E27, Nicolas Bernier, Jimmie «The White» LeBlanc, Louis Dufort, Jean-François Denis
Denise Lachance, Pauline Thibault, Valérie Jean, Vincent Breton, Andréa Oeffling, Caroline Rousseau, Diane Jobin
Chantale Jean (xx)
[i-13]
Quelques articles recommandés
La presse en parle
Gilles Boisclair, SOCAN, Paroles & Musique, 1 juin 2014

Martin Bédard

travaille la texture des sons pour en dégager une beauté singulière.

Wende Bartley, The WholeNote, no 19:8, 1 mai 2014

… known and respected internationally and considered the go-to place for the keen listener and connoisseur of electroacoustic music…

… and whilst nothing quite matches

Grand dehors

for outright depth and furious rage, it does hold steady to the end.

Imprévisible dans l'évolution et avec une dynamique de stratification dense.

Fabrice Vanoverberg,

Rif Raf

, n

o

194, 1 octobre 2013

… on y trouve toujours de quoi satisfaire une curiosité sonore de tous les instants.

… the energy and imagination displayed in this collection puts many younger producers to shame.

… todo él desprende una energía pocas veces vista que atrae a quien lo escucha a espacios densos y opacos que cortan la respiración y que dejan una sensación de vacío cuando deja de escuchar el disco.

… todo él desprende una energía pocas veces vista…

Le résultat est convainquant en ce qui concerne le dynamisme, la capacité à créer des mouvements, du rythme, à capter l'attention de l'auditeur.

Styckenas […] leds lyssnaren in på en ny, potentiell väg, vilken ofta får en renande verkan.

Le style de

Bédard

est compact, bruyant, avec une prédilection pour les contrastes appuyés

multipara,

De:Bug

, n

o

174, 1 juillet 2013

Hyperrealer Fieberstraumtaumel von Anfang bis Ende. Groß, natürlich. Und vor allem.

Bad Alchemy, no 77, 1 juillet 2013

Girolamo Dal Maso,

Blow Up

, n

o

182/183, 1 juillet 2013

… suono da cui è risucchiata come una ventosa la vita, tragica, violenta, impetuosa, eppure sospesa, fragile, esposta. Un esercizio di pensiero. Filosofia militante. Musica.

Diedrich Diederichsen, Spex, no 346, 1 juillet 2013

Bédard geizt nicht mit fetten elektronischen Massagen und quasi-sinfonischen Massierungen, intensiven Unübersichtlichkeiten…

Roberto Mandolini,

Ondarock

, 29 juin 2013

L'universo di

Bédard

è uno spazio multidimensionale dove l'attenzione è perennemente sollecitata da una valanga di eventi.

… Montréal-based phenomenal wizard…

… the most interesting music many will hear all year. […] … this first collection is simply a harbinger.
Blogue
Hier à Sherbrooke (Québec), la pièce Champs de fouilles de Martin Bédard s'est méritée le 2e prix du 7e Prix collégien de musique contemporaine (PCMC), chapeauté par le Cégep de Sherbrooke.…

Le disque Topographies de Martin Bédard se place en 12e position du «Top 30» de la semaine du 22 juillet 2014 de la radio CJSR d'Edmonton (Canada).…