Hors catalogue
Cet article n'est pas disponible via notre site web. Nous l'avons catalogué à titre informatif seulement. Vous trouverez peut-être de l'information supplémentaire à propos de cet article sur le site de Huddersfield Contemporary Records.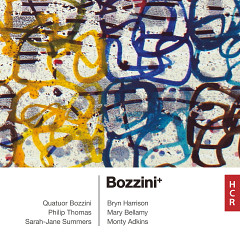 Bozzini+
La presse en parle
Nomi Epstein,

Tempo

, 1 juin 2019

Bozzini

+ delivers masterful playing and a diverse sense of beauty.

Best Chamber CD
A project begun in 2016, under the auspices of the Centre for Research in New Music at Huddersfield University, brought together the Montréal-based Bozzini Quartet, the Scottish hardanger fiddler Sarah-Jane Summers, and Huddersfield artists pianist Philip Thomas, and composers Bryn Harrison, Mary Bellamy, and Monty Adkins. Some of the resulting music is heard on Bozzini+, a double-CD featuring an extended work by each of the participating composers. Bryn Harrison's Piano Quintet revels in juxtaposing irregularly repeating piano filigrees with whorls of glissandos from the quartet. Bellamy's beneath an ocean of air crafts high-lying, tenuous sounds interrupted by occasional submersive thrusts. Still Juniper Snow, by Adkins, emphasizes sustain, with long drones held against folk-inspired melodies, creating a slow paced, sumptuous surface.